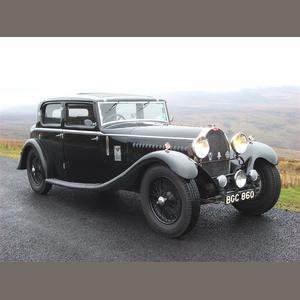 LOT 12
THE EX SAM CLUTTON AND JACK LEMON BURTON 1930 BUGATTI
Type 46 5,360cc Sports Saloon Coachwork by The Lancefield Coachworks
Bugatti's masterpiece for 1929 was not a Grand Prix racing car but a sensational luxury car chassis powered by an eight cylinder, 5,360cc engine designed to take the finest and most sumptuously equipped coachwork, providing the ultimate in flexible motoring with exceptional road manners. This was the Type 46 which earned the sobriquet 'La Petite Royale'. Not that there was much petite about the 5,360cc engine or substantial chassis which weighed some 1,150kg, however the car shared many similarities with the Royale, including the three speed gearbox in the rear axle and the long (130mm) stroke of the later Royales. The Type 46 comfortably bridged the gap between the 3 litre Type 44 and the gigantic Royale. Of the larger Bugattis the Type 46 ranks most highly and offered impressive top gear flexibility. At a time of world recession where the larger car competed in a reduced market place, its major competitors were Hispano-Suiza, Isotta-Fraschini, Rolls-Royce and Cadillac. Somehow the Bugatti marque stood in a class of its own, perhaps because of Ettore Bugatti's personal involvement in design and manufacture and the internationally recognised genius of the Bugatti family in so many spheres – and in no small way because of the marque's successes on the racing circuit.

Road tested by The Motor magazine in 1930, the Type 46 was described in the following glowing terms:- 'A really solidly built, beautifully sprung, comfortable saloon car with exceptionally rapid acceleration through its speed range; that is the 32.5hp or "5 litre" Bugatti. It combines the luxury of a large limousine, the flexibility and top gear performance of a thoroughbred town carriage with the perfect road holding, the speed and acceleration of the best type of sports model...... It will creep through traffic at 3 or 4mph in top gear, will climb practically any main road hill without there being any need to change down, and will accelerate, whenever the opportunity occurs, with surprising rapidity.'

Chassis number 46534 was ordered by London Bugatti agent, Col. Sorel, on 29th December 1930 and invoiced the following day, one of a batch of eight chassis ordered at that time with an invoice price of 63,168 francs each. The Wall Street Crash of October 1929 sent ripples around the world and it was perhaps a consequence of those ripples that resulted in this car not being registered in the U.K. until June 1934. Lancefield of Beethoven Street, London, had been commissioned to craft in aluminium the elegant four door sports saloon coachwork which this car still carries. Little is known of the subsequent history of the car until it was acquired by Sam Clutton in 1955 from Bugatti specialist dealer and repairer, Jack Lemon Burton. Clutton had a passion for fast motor cars owning many, including famously the Itala offered in this sale, and was the fifth President of the Vintage Sports-Car Club. Clutton's friend George Daniels, writing of Clutton's driving style noted 'he drove as fast as was possible on every journey..... the speed for each corner was carefully memorised and practiced on every occasion. This speed seemed to take no account of road conditions or number of occupants of the car. Accompanying him was a fearful experience'.

Clutton was to own 46534 for thirty-seven years until his death and participated in this car in 1981 in the Centenaire Ettore Bugatti in Alsace, as well as driving it extensively in the U.K. and on the Isle of Man where he lived. Upon his death the car passed to his cousin, Roger Hanauer, in whose ownership it remained for eight years and was exhibited at The Bugatti Exhibition in Amsterdam in 1999. It later passed to VSCC member Alan McKay, in whose ownership the car was exhibited in 2003 in the Cartier Paddock at The Goodwood Festival of Speed.

The present owner, a long-standing driver and connoisseur of fine motor cars, acquired the car in 2003 and embarked upon a programme of conservation and restoration, preparing the car to the best possible mechanical standards to meet his demands for a comfortable fast and reliable sports saloon. The 46534 did not disappoint and in this ownership the car has been actively campaigned, notably taking part with distinction and utter reliability in the demanding 2009 Flying Scotsman Rally.

46534 is presented in black livery and the coachwork is furnished with new green leather upholstery with sage green headlining and leather bound green carpets. The car is generously equipped in all areas and has Trico trafficators (a relatively recent innovation in 1934), two exterior rear-view mirrors, Marchal head and side lamps, twin Lucas Alto horns, a Marchal spotlight and twin rear-mounted spare wheels. Dashboard equipment includes a Jaeger clock and a Le Nivex fuel gauge and an ivorine Bugatti plaque is mounted above the windscreen. The wood-rimmed steering wheel is to traditional Bugatti style and passenger comforts are provided by a sliding sunshine roof, a rear seat divider, two interior courtesy lamps, smoker's companion and vanity set mounted in the rear quarters, with fold-down footrests for the rear seat passengers. A relatively commodious luggage boot provides for the continental tour.

We have ridden in this car in the hands of its owner and can testify to its outstanding performance and sheer power which requires nothing more than the three-speed gearbox with which Bugatti supplied it.

46534 is fully recorded in Bugatti literature, including Barrie Price's book 'Bugatti Type 46 & 50 – Big Bugattis' (pages 58 and 59,), and also in 'Bugatti Type 46 – La Petite Royale', by Messrs. Klein, Saunier and Jansen, copies of each of these books being offered with the car. 46534 is also recorded in the various recognised Bugatti Registers. It comes also with copies of relevant manuals and an interesting history file recording its ownership from the Clutton days onwards. Here is a rare opportunity to acquire a unique coachbuilt Type 46 Bugatti, exemplifying la crème de la crème of Bugatti touring cars, one of just sixty or so surviving examples of this model.
Registration no. BGC 860 Chassis no. 46534 Engine no. 383
Estimate :
£160,000 - £200,000
1038
Bidding Ended :
Wednesday, 6 March 2013 11:52:00

;