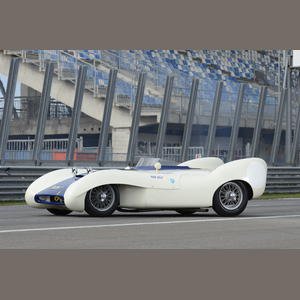 LOT 11
THE EX-TONY PAGE/PAUL EMERY
1955 Lotus-Climax Mk IX Sports-Racing Two-Seater
The exquisitely proportioned, beautifully compact little Lotus-Climax Mark IX was one of the most popular and widely successful small-capacity sports-racing cars of its contemporary period in 1954-55. This wonderfully well-presented example began life as Tony Page's car, assembled for him by Paul Emery in period and as campaigned by him in July 1955 at Brands Hatch, and that August at Charterhall in Scotland, then in the Goodwood 9-Hours race – in which Mr Page co-drove this then-unpainted car as race number '41, co-driving with Paul Emery of Emeryson Cars fame – followed by further events at Oulton Park, Aintree, Silverstone, back at Goodwood again that September, and then into October in the final major meeting at Castle Combe.

At Goodwood in the 9-Hours International, Tony Page and Paul Emery completed no fewer than 268 laps, finishing fourth in their class and 11th overall – a fine performance. It is worth noting that a certain budding mechanic/racer by the name of Graham Hill had approached Tony Page to request a drive! As Tony Page was already committed to racing with Paul Emery the answer was no but certainly Hill rated the car.

This Lotus Mark IX survived for many years in the caring collection of Norfolk enthusiast Arthur Carter until 1987 when it was acquired by Historic racing dealer and competitor Michael Lavers. He raced the car at Historic level in 1990-91, using a 1500cc engine and disc brakes. The car passed subsequently to the celebrated London dealer Dan Margulies, for whom it was campaigned again at Historic level by Alain de Cadanet and Richard Bond through 1992-93.

Stephen Archer Brooks ran the car in the Historic Championship season of 1994, and in AMOC-series events at Brands Hatch, Silverstone, Oulton Park and Snetterton the car proved 100 per cent reliable and provided some most enjoyable competitive fun.

The car was advertised for sale by Graham Warner's famous Chequered Flag dealership in the July 1958 issue of 'Sports Car & Lotus Owner' – page 97, inside back cover – and in 1990-91 a new body was made for it by Shapecraft, while a Stage II-tuned 1098cc Coventry Climax engine was acquired for it which had reputedly been a Kieft unit that had competed at Le Mans. We are advised that some £50,000 was invested in the car at that time. It was sold subsequently to Italy and was purchased by Olav Glasius from Luzzago ownership, Brescia, Italy in 2008. The car has FIA paperwork and is offered here in restored, but race used condition.

Historic Lotus Register records indicate that 30 of these Lotus Mark IX cars were built by the Lotus Engineering Company in period. By the start of 1955 the company's order book was full, racing results continued to impress and on New Year's Day that year Colin Chapman left his secure job with British Aluminium and devoted his formidable skills and energy full-time to his own company. Mike Costin – aerodynamicist Frank's younger brother – who had also been working for the De Havilland Aircraft Company, left that job at the same time to work with Colin on Lotus projects.

The pressing requirement at that time was for a more advanced version of the aerodynamic-bodied 1500ccc class Mark XIII, but aimed this time at the smaller-capacity 1100cc class of racing which was receiving widespread popular support and hence generating market demand. Two works cars were produced for Team Lotus's initial use, one registered '9 EHX' using an over-bored MG engine and 'XPE 6'as its sister with one of the newly-adopted 1098cc Coventry Climax FWA 'fire pump' light-alloy engines. It soon became apparent that the lightweight Climax engine had much more to offer than the hefty iron-block MG unit, and the Mark IX production sports-racing design became standardized upon the FEW engine and aluminium bodywork – instead of magnesium-alloy as adopted on the MG-powered prototype car to compensate for its excess engine weight.

The new Mark IX's multi-tubular spaceframe chassis represented a further development of the Mark VI, Mark VIII design, more compact and with lighter-gauge weight-saving members in some areas. Both practical and performance issues led to the Mark IX body being shorter than the preceding Mark VIII's, with higher, thicker and yet shorter-chord rear fins. With the entire upper half of the forward bodywork being removable, access was greatly improved compared to the Mark VIII and a tail lid exposed the final-drive and inboard Alfin drum or later Girling disc brakes.

The first two Lotus Mark IXs were completed in March 1955 before being shipped to the USA for the Sebring 12-Hours in which they performed well before being forced out. Colin Chapman and Ron Flockhart co-drove a works entry in that year's Le Mans 24-Hour race, and with a fastest lap in excess of 97mph the pretty little British aerodyne was the fastest relative to its limited horsepower.

Colin Chapman continued to campaign the work-entered Mark IX, 'XPE 6', through the balance of that season, beating Ivor Bueb's rear-engined 'Bobtail' Cooper-Climax at Brands Hatch and performing strongly in the World Championship-qualifying RAC Tourist Trophy race at Dundrod, in Ulster.

The Lotus Engineering Company's ever-higher profile was recognized during 1955 when it was accepted as a member of the Society of Motor Manufacturers & Traders. This gave it space in the annual London Motor Show, held in the Earl's Court exhibition halls, where for the first time Lotus exhibited a Mark IX sans bodywork. At that time a Lotus Mark IX 'Le Mans' model could be purchased complete for £1,150 plus Purchase Tax. A less sophisticated Club version powered by a side-valve Ford 1172cc engine matched to Ford gearbox, back axle and drum brakes was more affordable for most enthusiastic would-be owner/drivers.

Notable racing drivers who excelled in Mark IXs include Peter Ashdown and Peter Lumsden. John Bolster of 'Autosport' magazine track-tested both the works' Mark IXs, with alternative MG and Climax power, the latter being the faster, achieving a measured maximum speed of over 127mph and accelerating from 0-60mph in 7.8 seconds.

In period these small-capacity Lotus sports-racing cars represented the minimum motor car for the maximum driving pleasure. They went well, handled well and had proved that the Lotus sports car philosophy could be effective on race circuits not just at home in the UK, but worldwide. In chassis serial '102' presented here, Bonhams is delighted to offer one of the finest surviving examples of the lovely Lotus Mark IX.
Chassis no. 102
Estimate :
£110,000 - £130,000
1048
Bidding Ended :
Wednesday, 6 March 2013 11:50:00

;